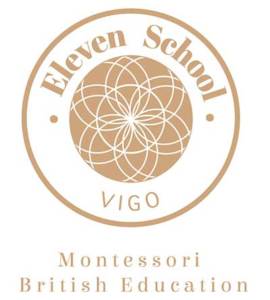 Eleven School is a private school accredited as a British school by the British Council and inspired by the Montessori methodology, which constitutes the basis for our learning model. We are the first and only Montessori School in Vigo, covering three educational stages from 0 to 16. (2017-2018 Workshop I)
As a Montessori school, we offer an environment with plentiful resources, allowing the children to unravel the complexity of the world and providing them with order, structure, harmony, time and affection. Both arts and crafts are included in our curriculum, which makes for an innovative model aimed at the holistic development of the children and taking body, mind, and emotions into account.
In order to achieve this, we have:
Large, versatile classrooms favouring interactive learning and offering an environment where respect reigns and children can work freely and autonomously.
A professional and committed team. The teacher (guide) remains in the background, fostering learning and personally and individually guiding each child.
Children arethe leading actors in their own learning, managing their materials and their time.
Coherent proposals. Each activity is carefully designed and linked to the others so that our children gradually achieve higher levels of understanding and proficiency. Day after day,sound concepts are built which get more and more complex and lay the foundations for new learning.
Freedom of movement. We encourage the relationship between movement and learning thanks to an environment offering plentiful structures.
Cooperation and socialization are always present in our spaces, since we have mixed-aged groups of children.
Children are eager to discover the world where they live. Our goal is to provide a rich and respectful work environment where they can experience the satisfaction of achievement, independence and eagerness, not as a burden, but in a natural and spontaneous way.
Equivalence between Education Systems:
The following table shows the equivalence between the academic yearsin the British and Spanish education systems.
| | | | |
| --- | --- | --- | --- |
| AGE | SISTEMA BRITÁNICO | SPANISH SYSTEM | MONTESSORI |
| 0-1 | Nursery | 1er ciclo El* | Infant Comunity |
| 1-2 | Nursery | 1er ciclo El* | Infant Comunity |
| 2-3 | Nursery | 1er ciclo El* | Infant Comunity |
| 3-4 | Nursery | 2º ciclo El | Childern's house |
| 4-5 | Reception | 2º ciclo El | Childern's house |
| 5-6 | Year 1 | 2º ciclo El | Childern's house |
| 6-7 | Year 2 | 1º de Primaria | Workshop I |
| 7-8 | Year 3 | 2º de Primaria | Workshop I |
| 8-9 | Year 4 | 3º de Primaria | Workshop I |
* First cicle of Educación Infantil in Eleven is certified by Spanish Educational System and will be driven by the principles of linguistic inmersion and Montessori pedadogy.